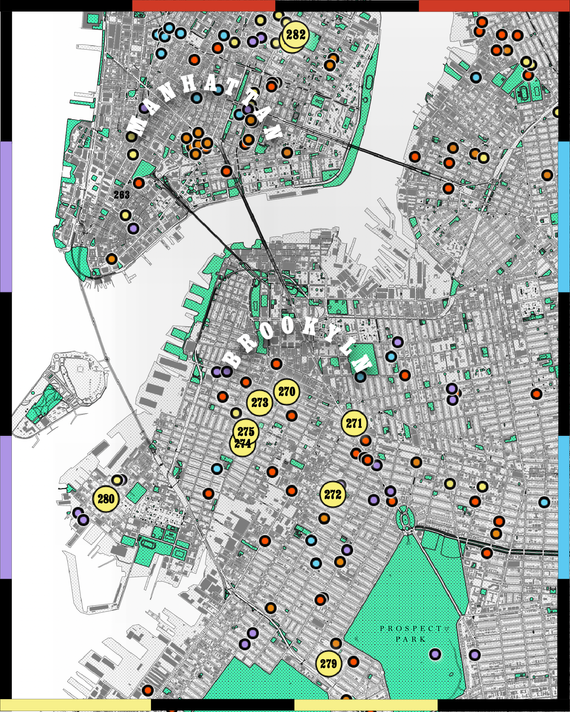 A running list of everwhere I've been, week 28: 270. Grand Army 271. Nathan's (the cart outside Atlantic Terminal) 272. Blueprint Bar 273. Yellow Rose 274. The HiHi Room 275. Brooklyn Pizza Market 276. Kimpanadas 277. Golden Palace 278. Kingston Tropical Bakery 279. Your Jerk Yard 280. Greek Xpress 281. Fort Defiance 282. Shinn East 283. PDT
Nothing is guaranteed in this life, not even a restaurant with an 4.9 average rating on DoorDash. But it was that stellar score on an otherwise nondescript jerk-chicken spot that pulled me out of my Brooklyn neighborhood to what is almost the very top of the subway map, 225th Street in the Bronx.
actually, Your Jerk Yard was going to be my second stop on this trip. My original inspiration for going was to check out the beef patties at Kingston Tropical Bakery, a couple minutes away from the 2/5 stop, which I did — happily. The filling is vibrant and flecked with bits of red chile and garlic, and the buttery crust isn't so flaky that you end up with a flurry of yellow crumbs all over your black shirt.
A very good patty.
Photo: Tammie Teclemariam
In theory, the patties alone made the trip worthwhile, but even though I have previously recommended a long train ride followed by one-stop shopping in the Bronxstanding in a quick line at a bakery for a hand pie you have to eat in a nearby park is a little too anticlimactic after 90 minutes on the subway, which is why I wanted to at least hit one more spot.
I'd like to think I have a well-honed sense of how to read digital reviews, carefully weighing a business's location against its number and quality of write-ups. Based on my personal calculations, Your Jerk Yard had the potential to become a sleeper hit — but of course I wouldn't know for sure unless I went myself to find out.
I approached the residential block where the jerk yard was supposed to be and smelled the burning wood before I spotted the grills. Behind a fence, I noticed an overgrown garden with a single brown chicken pecking through the foliage. There was only one, so I assumed it wasn't destined for the fire, but I wasn't sure.
Connected to this garden was a small blue house, in front of which three grills were arranged in a right angle next to two metal tables, one with utensils and white bread and the other with a single plastic cutting board stained black from char, plus tongs and a large cleaner. When I arrived, a man whose car was still running behind him was in the middle of ordering something, which the jerk master pulled directly off the grill and chopped before drizzling on a thin sauce and boxing it up with a slice of bread in a styrofoam containers. Then it was my turn.
The menu listed a few different meats, so I asked for some of the sausage, ribs, and chicken. "Should have gotten here before three," the man told me, if I wanted anything other than chicken. Sometimes decisions make themselves, it seems. He prepared my chicken just as he had the order before mine, pulling off a few leg joints — I didn't see any breast meat, so they definitely aren't using their own whole chickens — and hacking them into bite-size chunks before asking if I wanted hot or mild sauce. (Hot, duh.) He sent me off and reminded me that the jerk yard is on DoorDash.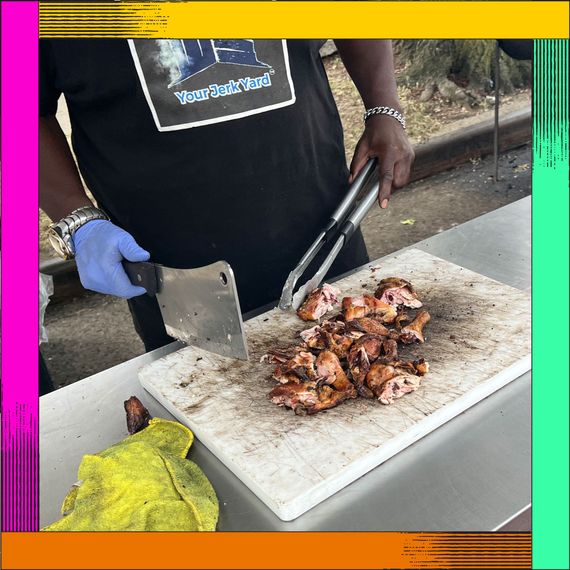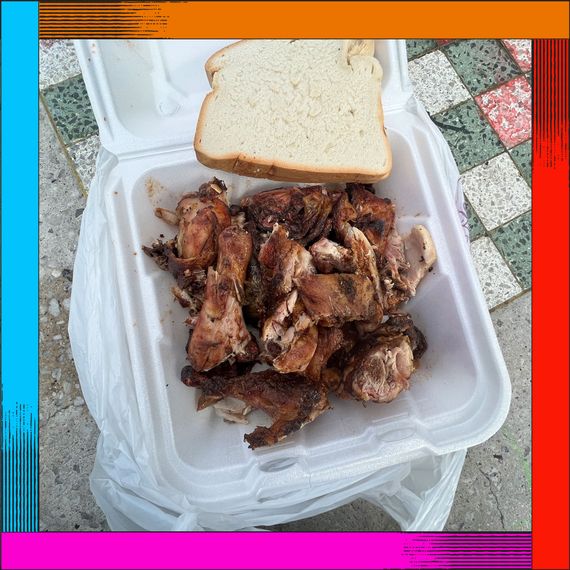 I wish I could tell you that I'd found life-changing chicken, grilled thighs worthy of 90 minutes on the train each way, with spice that lingers in your memory until you are able to finally try it again. Unfortunately, I did not. It was fine — nothing to complain about — but in the end it couldn't live up to the ambience and the journey. I could have gotten better chicken at the original location of Peppa'swhich is right around the corner from me.
But that's life. All the five-star reviews in the world won't guarantee your own satisfaction, but that also means that my bad luck is not necessarily the rule. I probably could have found better chicken somewhere in the neighborhood, too, but then, I didn't really go with the intention of finding the best chicken. I really wanted to try this guy's.
So what's the moral of the story? Always have a backup plan? Buy extra patties and reheat them all weekend long? I don't think you have to follow in my footsteps, but maybe I can inspire you to take your L's in stride.